F-22 Total Air War 2.0
Talk

0
25pages on
this wiki
Total Air War 2.0 is a total conversion of F-22 Total Air War (TAW), and also includes the campaigns from F-22 Air Dominance Fighter (ADF) and the Red Sea Operations (RSO) expansion disc. TAW 2.0 is the follow-on to Total Air War 2008. The goal of TAW 2.0 is to provide a simulation experience that equals or surpasses your fond memories with the original ADF and TAW.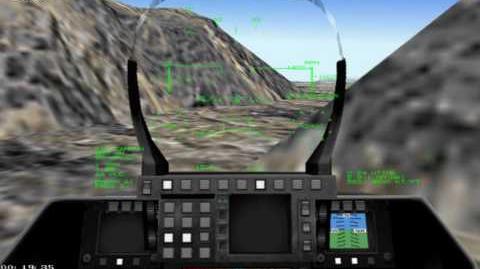 Total Air War 2.0 Features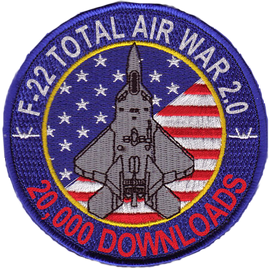 Improved photorealistic terrain and new color palettes completely redefine the look of TAW
Mod Management, Configuration, References, and the Mission Editor (TAWBC) are all accessible from a single integrated menu
Configuration now allows you to choose your renderer, resolution, and Glide wrapper (if applicable) from the menu
Fullscreen and Widescreen versions now selectable.
Increased integration with TAW Battle Commander (TAWBC) provides mission titles for your generated missions within the TAW mission menus
TAWBC Mission Enhancement Utility (TME) allows you to automatically enhance your TAWBC missions
Enhanced Avionics functionality
Ability to change between NVGs and natural light while zoomed into an MFD (Windows XP and later)
East/West palettes with Glide renderer allow for more natural light transitions during morning and twilight hours
Campaign Weapons Descriptions are now available
Numerous selectable photorealistic F-22 skins, to include the YF-22, the Nightstalker, and Woodland, Urban, and Desert camouflage patterns
More USAF tail flashes and custom tail logos
Formation lighting for low light F-22 skins
Custom playlists available for in-game playback
"Nostalgia Mod" brings the graphics, sounds, and HUD/Cockpit back to 1998 standards
Features carried over from Total Air War 2008
30 custom missions
3 custom campaigns, 28 missions
Full Red Sea Operations (RSO) campaigns, 36 missions (Now also available in multiplayer)
Additional multiplayer missions, including three new head to head scenarios
Integration of TAW Battle Commander (TAWBC). Now you can fly dynamic missions without having to overwrite other mission slots
New HUD (Improved and made more realistic)
Cloud enhancement
Improved Level of Detail
Incorporated Head-Tracking (TrackIR and Freetrack)
Improved/corrected MFDs
added training ACMIs
Removed "WIDE" cue from D3D-1024 executable
Improved realistic Moon and Sun sizes
Replaced default Saudi, Egyptian, and USAF skins with photorealistic skins
Added selectable photorealistic F-22 skins, to include YF-22 skins, a photorealistic USAF Woodland skin, and a USAF Desert skin
Incorporated additional Tail Flashes:

49th FW, Holloman AFB (HO)
154th Wing, Hickam AFB (HH)
185th FW, Sioux Gateway Airport, Iowa (HA)
138th FW, Tulsa IAP (OK)
3rd Wing, Elmendorf AFB (AK)

Made minor grammatical and formatting changes to some of the mission and campaign briefings
Added Desert Flightsuit textures and improved in-cockpit textures
Improved MIDI support for Windows XP and more recent operating systems
Miscellaneous minor fixes and improvements
Links
F-22 Total Air War 2.0 can be downloaded for free from www.CombatSim.com
TAW 2.0 Known Issues and Bug Reports
Check out the TAW 2.x Wishlist to see what else needs to be done to improve this great sim.